This blog covers how to make a really simple pressurised beer line cleaner. This simple device is perfect for making a fussy job straight forward. You can use it to make cleaning the beer lines on your Kegerator/Keezer super quick and straight forward. Having a dedicated tool for the job is great. It makes it simple to keep your beer lines and keg beer out posts clean (and sanitary). Over time, your beer lines collect beer stone, yeast and other particles, so it's a great idea to regularly flush and sanitise your beer lines and ensure that you have a regime in place to clean them. This keeps your taps and beer lines clean and sanitary.
You may come up with other uses, but this pressurised beer line cleaner's also useful for cleaning beer lines after bottling with your preferred method: counter-pressure bottle filler, Blichman Beer Gun, or Boel iTap etc.
Right, let's get down to constructing your new piece of highly useful homebrew kit. It won't take long, it's so simple to do. Making the pressurised beer line cleaner is really straight forward. It couldn't be easier; you only need 2 parts:
1x Pressurised garden sprayer with a length of hose (I got the 5-litre version of the AquaKing pressure sprayer)
1x Carbonation cap (the newer type with a barbed hose tail Amazon link)
Bespoke, ready-made beer line cleaner/sanitiser or your own recipe cleaner and sanitiser (ChemSan/StarSan etc.).
Constructing The Pressurised Beer Line Cleaner
Take your garden pressure sprayer, which we'll imaginatively call the "BLC" (Beer Line Cleaner) and locate the part that connects to the spray wand and remove it. I simply used a Stanley knife to cut near the connection furthest from the sprayer body. This left a good length of hose to connect to the Carbonation cap's hose tail (pic 2).
Connect the carbonation cap to the hose.
Let the hose cool. Then it'll be ready to use. You can use a small jubilee clip or cable tie if you want to. The barbed hose tail should be more than enough to handle the pressure we'll be applying.
NOTE: If the hose is difficult to attach to the hose tail, dip it in a cup of very hot water to soften it. You'll find the hose much more malleable once it's heated up.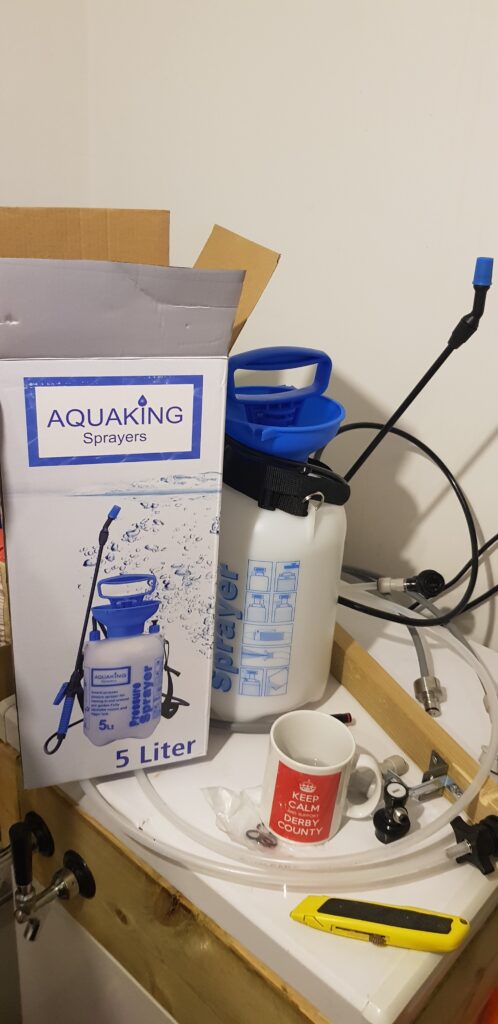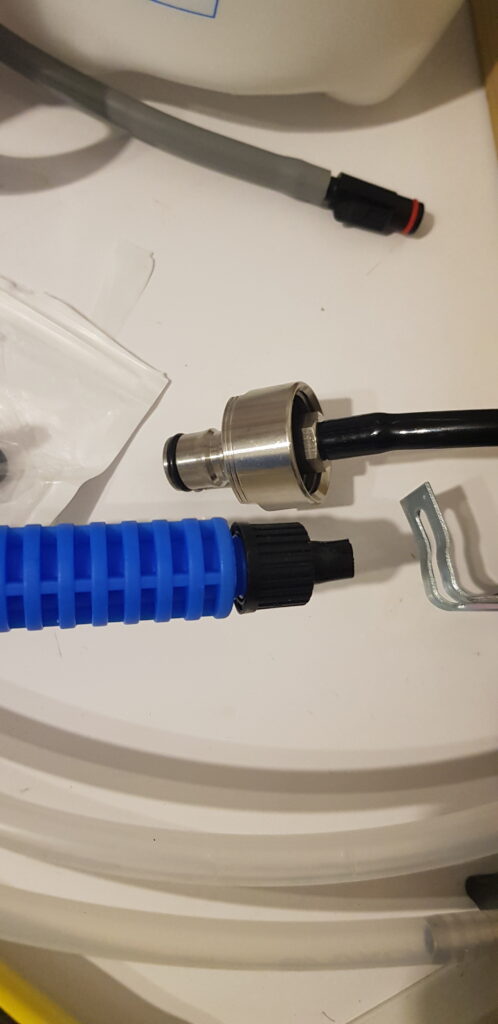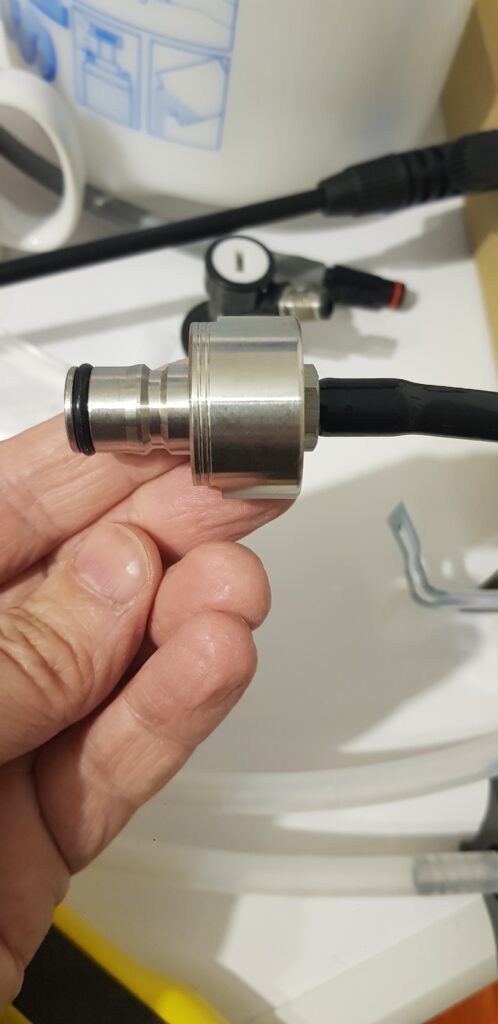 Using Your Pressurised Beer Line Cleaner
Using the pressurised BLC is as simple as connecting the carbonation cap to a black, beer out Ball lock MFL disconnect (with John guest fitting). When you pump the sprayer to create pressure, it pushes the cleaning fluid out to the hose and through the beer line through the open tap, cleaning and sanitising as it goes. Job done.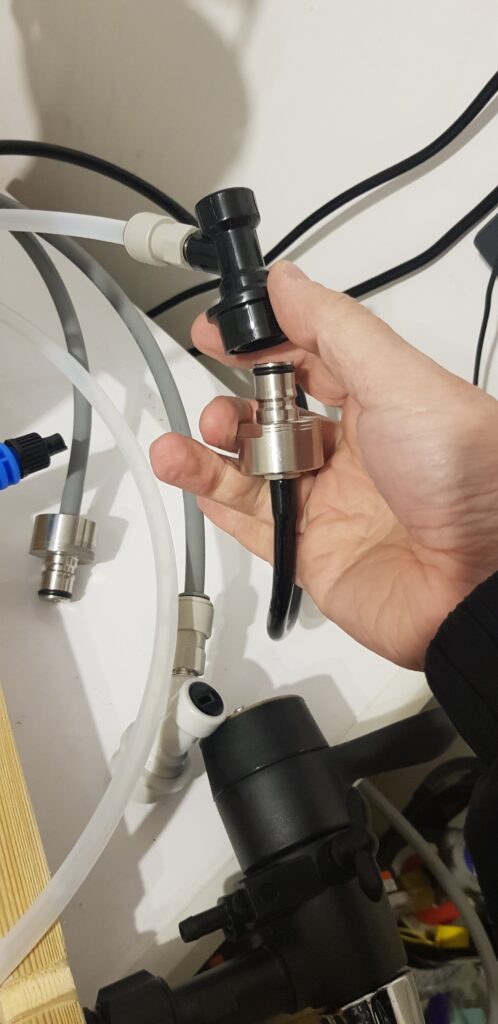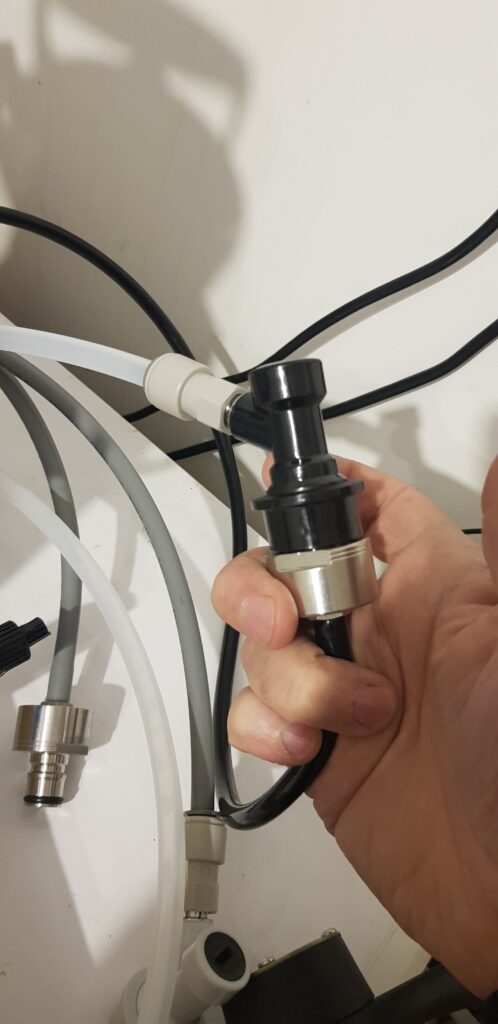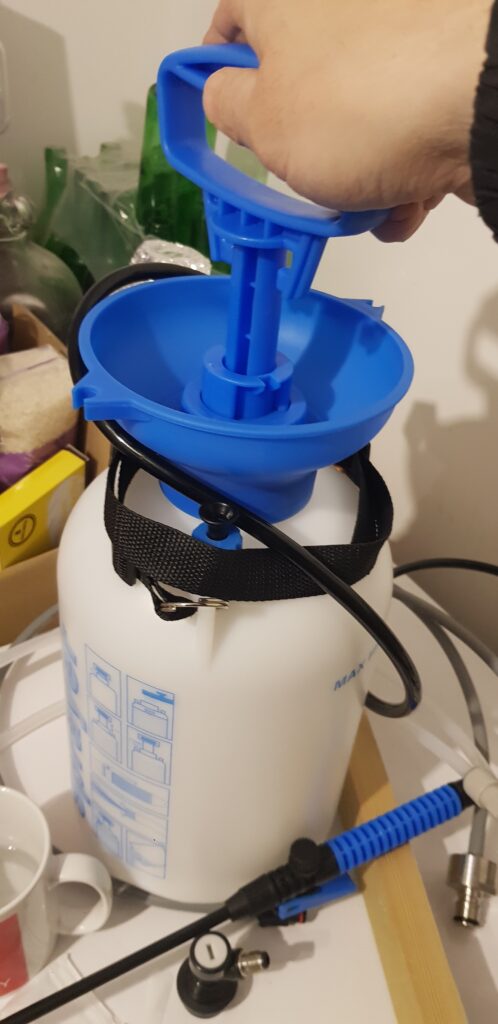 Other Uses For The Pressurised Beer Line Cleaner
Other uses for this pressurised garden sprayer could include serving beer from a keg. This could be suitable if you're serving/drinking the beer within 24-hours of exposing it to O2.
Other Beer Line Cleaning Ideas
While researching this article, I found a neat little manual cleaning device: A Kegland thumb-pump, named: "Gas Free Ball Lock Line Cleaning Kit". It's relatively cheap and looks to do the job, however, you're tied up applying the pressure to serve the cleaner. If you're more economically minded and happy to, it'll do you a job.
You could also get a larger bottle, attach the carbonation cap and squeeze the cleaning fluid out, that's Uber Heath Robinson, but again, does the job.
As usual, there are lots of ways of skinning the proverbial cat: If you have a surplus of kegs, set one aside to load up with cleaner and pressurise it with Co2 and attach the beer out to your beer lines to clean them. Dead simple.
If you have your own ideas or proven innovations, please feel free to share them in the comments.
Happy Brewing.