We'd had a few requests to move the Essex chapter monthly mid-week meeting to Chelmsford. So we arranged to meet at the Hop Shop for 19:00 on Wednesday 13th October 2021. And. Well. I'm not sure we could call it memorable (for all the right reasons). Due to the excellent beers on offer at the Hop Shop, and the number of bottles brought for the tasting, most people I've spoke with woke up with a thick head and a hazy memory the next morning.
Note: Please do let us know how your Thursday panned out in the comments. I'm sure it'd make for some interesting reading (insert giggles).
Meeting Up and Schedule
Groups travelling in to Chelmsford had planned to meet at the Ale House, situated in the railway arches at 18:00 for a quick pint. We then set off on the 10 minute walk to The Hop Shop, on Moulsham street. for the 19:00 meeting time. Others, more local, had met already gathered and secured a "tasting table" and were getting stuck in to the fine selection on offer.
Our primary aim for this meeting was to meet with the new brewers, introduce them to the group and catch up on what our other Essex brewers had been brewing. We'd planned on a very loose schedule around the bottle share and letting things develop organically, which worked admirably.
The Warm Up
To begin we all enjoyed a catch up and inquisitive look over the shelves of the impressive range of wall mounted bottles and cans to purchase. We knew there were a planned quartet of new local members that were joining us, but nobody was sure who it could be? The Hop Shop is fairly small and there was a large table of locals already noisily enjoying their early evening lubrications. The new brewers were soon located and introduced to the party, which was just getting warmed up. Shortly after introductions, we collected the tasting bottles and soon realised the night was young.
Bottle Share /Tasting Session
Out of the 15 brewers attending, a total of 11 different beers were brought to sample with all four new brewers bringing beers for constructive critique. As we'd expected good numbers to turn out, we'd advised people to bring a couple of bottles to go around. As mid-week meetings are pitched as being more relaxed, no notes that I know of were made about individual beers. From hazy recollection, the beers were all good and some very good. If anyone has anything to add, please do so in the commets.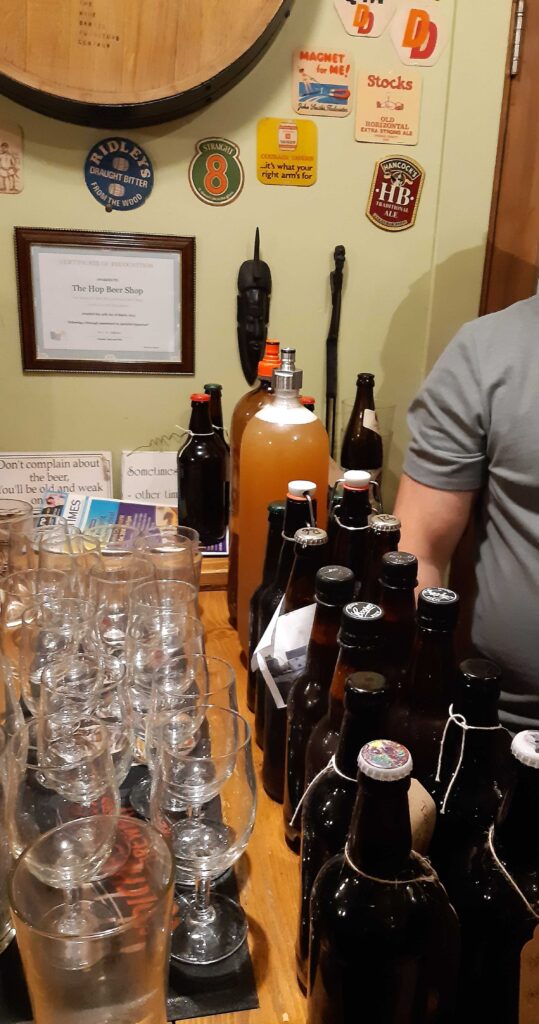 In general, the feedback was positive and constructive and it was a great to meet and find out more from the new (to us) brewers. Conversation was flowing and about to find new depths as we approached the trio (or was it quartet) of Saisons and prospect of finishing with the 11% Imperial Stout. By this point faces taking on a very rosy glow and eyes were becoming increasingly glassy. Good times.
Getting Messy
The Hop shop sell a very good range of Belgian beers and local British cask ales on gravity pour. As is customary when a venue allows us to turn up and sample our own beers en-mass, we were also enjoying their offerings alongside the bottle share.
Round Up and the Kebab Shop
A good night was had by all, new friendships were made and we got to taste great beers in great company. As a bonus some of us finished the night (for the win) by visiting the Kebab shop, shortly before getting the train home.
If you have anything to add, gaps to fill, please add them in the comments.
Skål / Prost / Na Zdravi / Tchin Tchin / Salute / Cheers.